AFS
Ramsbottom Fire Station had a Bedford RLHZ Self Propelled Pump "Green Goddess" which was part of the Auxiliary Fire Service (AFS). It may have also had other AFS equipment such as a control unit, bikini unit, hose carrier, land rover 109 station wagon and possible match motor cycles. These will have to be confirmed. I do know one of the old AFS firemen so will hopefully confirm with him son.
At this present moment in time it is unclear what dates the Bedford was based at Ramsbottom but must of been between 1963 when the present Stubbins Lane Fire Station opened and 1968 when the Auxiliary Fire Service (AFS) was disbanded. It also not currently known what the registration of this vehicle was or whether it was a 4×2 or 4×4 version. They were manufactured around 1953.
Bedford RLHZ Self Propelled Pump "Green Goddess" 
The vehicles were normally crewed by an officer in charge, who sat in the front passenger seat, a driver/pump operator, and four fire fighters seated on the crew bench. Unlike modern engines they have no radio, no cutting equipment, only a single
ladder
, and were relatively slow with a maximum speed of around 65 miles per hour (105 km/h), a comfortable cruising speed of 45 miles per hour (72 km/h), no power steering, and sensitive on corners. But one advantage that some Green Goddesses enjoy over most modern fire appliances is their four-wheel drive. Fuel consumption was between 8 mpg
-imp
(35 L/100 km; 6.7 mpg
-US
) and 10 mpg
-imp
(28 L/100 km; 8.3 mpg
-US
), depending on driving style and quantity water carried. They also have less water capacity at 400 imperial gallons (1,800 L) in 4×2 form, 300 imperial gallons (1,400 L) on 4×4 versions, than a modern vehicle, and poorer stability due to a lack of baffle partitions in the water tank. They were fitted with a 4.9L 110BHP L6 Petrol Engine they were also fitted with a 4 speed manual gear box.
Some were later modified by the installation of flashing blue lamps and two tone warning sirens, and alterations to the rear lamps, to bring them into line with then current practice on 'regular' emergency appliances. Mechanically, they were designed to be robust and easy to maintain.
The Green Goddess carried a range of equipment from standard hose and branches, through a selection of nozzles to provide different flows and jet patterns, to Light Portable Pumps and Ceiling Arresters. They all carried a 33.5 feet (10.2 m) extension ladder, together with at least one scaling ladder. Some carried additional equipment, such as Hook ladders, radios, large bolt cutters, etc.
The Sigmund F.N.5 main pump has a capacity of 1,000 imperial gallons (4,500 L) per minute (900 imperial gallons (4,100 L)) on 4×4 versions). Normal fire hoses could be used either from the main pump, which had four outlets, or from normal fire hydrants for which an assortment of connecting branches were carried. In addition, the machines carried a small Coventry Climax (350 imperial gallons (1,600 L) per minute pump, with its own petrol engine, which could also draw water from a river or other source, again feeding normal fire hoses, and which provided a separate and self-contained fire fighting capability. A 400 gallon water tank (300 gallons on 4×4) was installed, which fed small diameter hoses on each side of the vehicle to give an immediate "first aid" capacity to fight a fire whilst the main hoses were connected and brought into use. A stirrup pump was also carried, together with a full range of other suitable tools and equipment.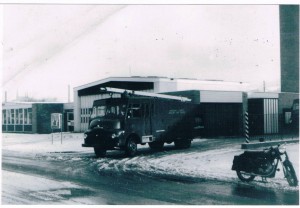 This photograph shows a Bedford RLHZ Self Propelled Pump 4×4 version leaving Ramsbottom Fire Station during a Winter. Note on the side of the appliance it says "Lancashire County Auxiliary Fire Service – 1969 – Copyright Ramsbottom Heritage Society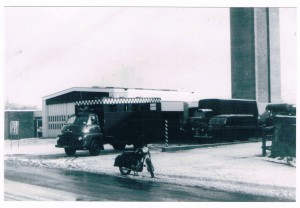 This photograph shows a Bedford Control Unit, Bedford Hose Carrier, Land Rover 109 station wagon and Bedford Biniki Unit seen leaving Ramsbottom Fire Station during Winter. Note the reg of the Control Unit looks to be NYR 903- 1969 – Copyright Ramsbottom Heritage Society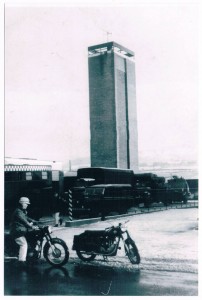 This photograph shows the rear of Bedford Control Unit, Bedford Hose Carrier, Land Rover 109 station wagon, Bedford Biniki Unit and another Bedford RLHZ Self Propelled Pump 4×4 version seen leaving Ramsbottom Fire Station during Winter – 1969 – Copyright Ramsbottom Heritage Society