Current Specials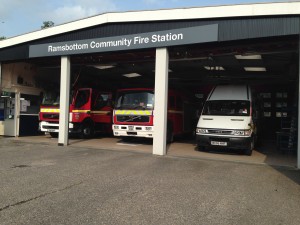 L-R PO11AVF, MV53EXN and MX56NHF – 31/07/14 – Copyright Danny Jones
Ramsbottom currently has one special appliance which is a Detection, Identification and Monitoring Vehicle. This has been provided under the governments  New Dimension programme, sometimes referred to as the New Dimension or New Dimensions,
Bay 3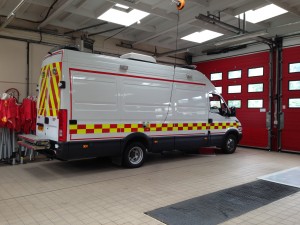 MX56NHF seen in the 3rd bay at Ramsbottom Fire Station – 13/07/14 – Copyright Danny Jones
G38H8 – MX56NHF is a special appliance which is a Dim Vehicle and is numbered 018, this appliance is crewed by the Day Manning firefighters.
This vehicle is a  white Iveco Daily 50C17 extra high roof vans which have been fitted out by AES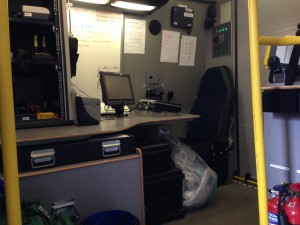 The rear part of MX56NHF contains a small office as well as a computer for Detection, Identification and Monitoring – 31/07/14 – Copyright Danny Jones
Detection, Identification and Monitoring (DIM)
The DIM vehicle and equipment have been provided through the Mass Decontamination capability of the New Dimension programme to enable:
•Detection of a range of chemical or radiological hazardous substances.
•Identification of hazardous substances whether chemical, biological or radiological.
•Monitoring of the levels of contaminate present and to establish and maintain cordons
The vehicle is a 5.2 tonne Iveco Daily which carries a suite of specialist equipment for use by HFRS DIM trained officers. The equipment includes:
•Zellweger Impact Pro multi gas monitors
•Rados RDS 200 universal radiation survey meters
•Hazmat ID chemical identifier
•Hapsite Smart gas chromatograph mass spectrometer
•Exploranium GR 135 radiation identifier
•Panasonic Toughbook laptop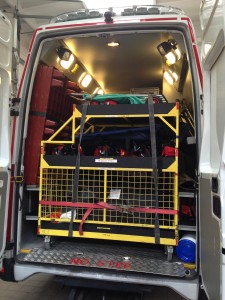 The rear of the MX56NHF showing some of the equipment which is store in these cages and lowered via a tail lift – 31/07/14 – Copyright Danny Jones
All this equipment is field portable and can be taken into the hot zone at an incident and operated by DIM trained officers wearing suitable personal protective equipment (PPE).
If you would like to see more photographs then please click the link