Central Street Fire Station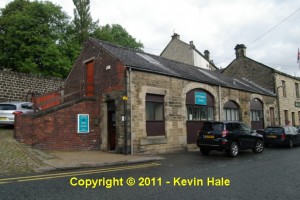 Ramsbottoms 1st Fire Station located on Central Street – 2011 – Kevin Hale
ABOUT
Name – Central Street Fire Station
Address – Central Street
Town – Ramsbottom
Brigade – Ramsbottom Fire Brigade
Postcode – BL0 9AF
Year Range – 1887 – 1910
Latitude/Longitude – 53.647969 North, 02.319248 West

HISTORY
Ramsbottom fire service was first formed in 1887 by the Ramsbottom Local Board, this was before the days of Ramsbottom Urban District Council (1894).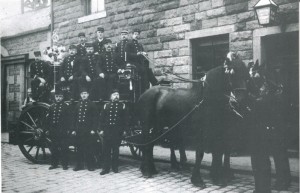 Ramsbottoms Firemen posing outside the central street fire station – 1887 – Copyright Tower Press
The brigade consisted L.W.Preston (a plumber at Joshua Hoyles, Summerseat), George Starkey (a plumber at Charles Ainsworth, Holcombe Brook), Sam Westwell, Jacob Lord (Corporal of the Brigade), Robert Stansfield (Plumber), Jack Hamer (Joiner), William Ramsbottom (Painter), Arthur Coulson (Slater), Jack Pycroft, George Smethurst (Mechanic at Steads Mill), Jack Tattersall and Jame Taylor (Captain).
Robert Stansfield suceeded Jame Taylor as Captain and held that position for 15 years until the Brigade was disbanded. After that the RUDC came to an agreement with Rawtenstall Fire Brigade regarding firefighting in Ramsbottom.
The building was built in the late 19th century as a fire station to house a fire engine, ambulance and stabling for the horses. In the 20th century the fire station became the towns mortuary.
Shown on 1892 1:500 OS map, still on 1910 1:2500 OS map, on 1929 1:2500 OS map it is marked as Fire Engine Station (disused), shown disused on 1938 1:2500 OS map
PRESENT

Central Street Fire Station as seen via Google Maps Street View – 01/03/09 – Copyright Google Maps
Today the fire station has become Bonham Veterinary Centre. It is still quite easily reconisable due to the 3x large arches that can be seen.
If would like to see more pictures of the central street fire station then please click the link