Life Raft
Despite appearances, this is not a cruise missile but a oil drum life raft designed for a channel crossing. The pointed tips are banks of 5 welding together drums for streamlining.
The firemen were raising money to help raise funds for a drug that Helen needed that the NHS would not pay for called Interferon. Sadly she died before she got it.
Special thanks to Andrea Burke and Maxine Jones Fairhurst for the information and photographs.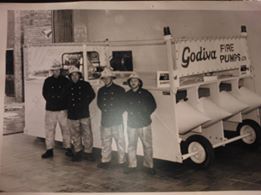 The Life Raft in Bay 3 within Ramsbottom Fire Station seen with Firemen L-R Sub Officer Ian Lomas, Alan Jones, Ian Robinson and Paul Taylor – 1980 – Copyright Andrea Burke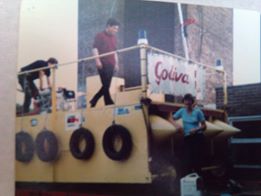 The Life Raft seen in the rear yard at Ramsbottom Fire Station, Unknown Firemen – 1980 – Copyright Andrea Burke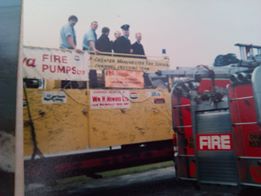 The Life Raft seen at the front of  Ramsbottom Fire Station with Ford 1617 OVU853R ,Unknown Firemen – 1980 – Copyright Andrea Burke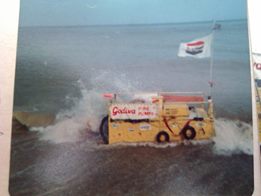 The Life Raft seen in the channel – 1980 – Copyright Andrea Burke
Sorry about the quality of the picture but it felt it was worth including. Pictured is the raft that was created by the by the firemen to cross the channel to raise money for the Helen Aspinall Appeal. L-R Sub Officer Ian Lomas, Alan Jones, Ian Robinson and Paul Taylor – 1980- Copyright Mark Beswick